Feed
Photo by Reuters/Landov
The first official portrait of First Lady Michelle Obama shows a woman who is classy, confident, and able to hold her own in a fist fight--not that she would ever stoop to that level. Mrs. Obama's portrait is beautiful, but her classic Michael Kors dress is causing a stir because of its lack of sleeves. Some say the First Lady should have chosen a more traditional, conservative dress more akin to what Eleanor Roosevelt might have worn back in the era of the Great Depression. Well, the economy may be tanking, but women have come a long way since the 1930's. Michelle Obama's portrait is an accurate rendition of a smart, strong, independent, elegant woman and mother who takes great care of herself. As far as I'm concerned, that's a wonderful message to send out to America's women and young girls.
I know that most of us will never have a private chef, a personal trainer ,or a staff of people to look after our house and children while we steal an hour at the gym, but I'm pretty sure the First Lady has a lot on her plate, too. So how does she find the time to stay in such great shape? Check out how you can get Michelle Obama's toned arms at cnn.com/2009/HEALTH
Alan Trounson, Institute for Regenerative Medicine
By Jennifer Brown, The Denver Post
DENVER — Stem-cell researcher Dr. Dennis Roop was teaching a class on bioethics Monday morning when he glanced at his watch — the next 15 minutes, he told his medical students, would revitalize science.


---
Alan Trounson, president of the California Institute for Regenerative Medicine, poses for a portrait at his offices in San Francisco, Monday, March 9, 2009. Trounson reacted favorably to the news that President Obama on Monday cleared the way for a significant increase in federal dollars for embryonic stem cell research.(AP Photo/Eric Risberg)
---
As President Barack Obama was lifting the ban on federal money for embryonic stem-cell research, the University of Colorado Denver School of Medicine professor was lecturing about the stem cells his lab has created from human skin.

Roop and other Colorado scientists — on the cusp of major breakthroughs that could someday cure Parkinson's disease and help paralyzed people walk — celebrated the reversal of policy.

``It's a clear signal that this administration is taking politics out of science and restoring science to its rightful place,'' Roop said.

He said Obama's executive order will invigorate research stalled under former President George W. Bush's ban, which limited the use of taxpayer money to only the stem-cell lines produced before 2001.

Those cell lines are no longer fit for human use, perhaps degenerated after eight years in frozen storage and contaminated with animal cells, Colorado researchers said. Cell lines created since then, using private or, in some cases, state money, are now available for research with Obama's order.

Roop, director of CU's Charles C. Gates Regenerative Medicine and Stem Cell Biology Program, intends to compare the capabilities of stem cells created from human skin to embryonic stem cells. Within a few years, he believes doctors will treat diseases using stem cells created from the patient's own skin, perhaps closing the controversial chapter on embryonic stem cells.
``It's almost limitless what you can propose to use them for,'' said Roop, who believes skin stem cells could potentially cure cancer and heart disease, among other illnesses.

The stem-cell ban also slowed research by Dr. Curt Freed, who is at the forefront of developing a cure for Parkinson's disease.

The UCD researcher has transplanted stem cells recovered from aborted fetuses into patients with Parkinson's. He also has used stem cells to cure Parkinson's in rats.

``These Republican presidents have taken the position that they would prefer to see tissue discarded than used to help people,'' Freed said. ``You basically get put on hold for a long time.''

Obama's order — combined with the stimulus package that infuses money into the grant-making National Institutes of Health — will jump-start research at public universities in particular. Besides the new money, universities will no longer have to follow a federal rule that banned work on embryonic stem cells in the same building with any federally funded research.

The end of the ban comes at a perfect time for Dr. Stephen Davies, a UCD neurosurgery professor who is trying to cure paralysis with stem-cell transplants. Rats with spinal injuries in Davies' lab had a 40 percent regeneration of nerve fibers within eight days of receiving stem-cell transplants, he said. He hopes to try the therapy on people soon.

``It's great news that there is now going to be more latitude,'' he said. ``It's going to create a lot of opportunities.''
SUDBURY, ON – Come one, come all and test your spatial and memory skills at Science North! Maze-A-Palooza, a new special exhibition about mazes opened to the public on Saturday, February 28th – just in time for March Break!

Explore 13 interactive mazes and come face to face with mystifying illusions and mind-boggling puzzles! Each maze features a dynamic environment where you'll discover a surprise around every corner, and develop new methods of problem-solving through improvisation, trial and error, observation and testing, and logic and reasoning.

Solve puzzles and patterns, challenge the relationship between the mind and the eye and nurture your inner musician! Maze-A-Palooza offers challenging and interactive maze experiences for all ages including the Music Maze, Puzzle Maze, Colour Maze and Maze of Illusions!~ You can also run a marathon with your fingers in the Continuous Quad Maze or become a "webmaster", climbing over and under without getting tangled, through an intricate web of ropes!~

"Research shows that exercising the brain can keep it healthy and sharp. The Maze-A-Palooza special exhibition at Science North is sure to give your brain a good workout," says Jennifer Pink, Science North's Science Director. "No matter how young or old you are, this exhibition will engage and challenge you!"

Prepare to be A-MAZE-D!

Maze-A-Palooza will be on display in the Special Exhibits Hall at Science North from February 28th, 2009 to March 29th, 2009. Visit sciencenorth.ca/maze for all the details.
Mountain Maze Is Gone – Temporarily
by Dana Wilbourn
posted March 10, 2009
Photo by Dana Wilbourn
A new Mountain Maze will rise soon from the ground where the old Maze stood for 20 years at the Lookout Mountain Commons
The Mountain Maze playground for Lookout Mountain, Tn., has been completely dismantled and removed by city public works employees. Ansley Moses told city commissioners at their monthly meeting on Tuesday the demolition work was completed in just one week. Initial estimates had allowed two to three weeks for demolition.
Mr. Moses commended the city employees for their excellent work and recommended to the commission that the city reward them with a monetary bonus because they saved the city quite a bit by completing the work in such a short time. The commission voted to approve the bonus request which amounts to about $5 per hour-worked.
Parks and Playgrounds Commissioner Will Moses said some site preparation is required before the new Mountain Maze is built. He recommended the city let the contractor/supplier, GameTime, do the preparation. The new Mountain Maze should be complete about mid-April to the end of the month, he said.
Portions of the old Mountain Maze will see continued use in the Natural Bridge area and at Chattanooga Christian School.
Police Chief Randall Bowden and Commissioner Carol Mutter told the commission that two police officers have been injured this week. Neither officer was on-duty at the time of the accidents which, though unrelated, were both farm-type accidents.
Patrolman Don Massengale has a crushed foot and will be out for several weeks.
Capt. Jim Purser was hit by a tree limb that whipped back over the hood of his tractor and struck him across his eyes. He is temporarily blind and underwent six hours of facial reconstruction surgery on Tuesday to rebuild his eye sockets. Additional surgeries will be required by the end of the week.
Mayor Greg Brown said he will discuss with the commissioners soon some way to assist Capt. Purser's family during this difficult time. "As a community, we need to help them," he said.
Chief Bowden also informed the commissioners about a recent arrest made in cooperation with the Chattanooga Police Department. The Chattanooga Police called the Lookout Mountain Police on Sunday night for assistance in stopping a car running from them and traveling up Scenic Highway at a high rate of speed.
Lookout Mountain officers clocked the speeding car on radar at 75 mph as it crossed the Incline. Officers engaged in the chase near the top of the mountain and the driver lost control trying to make a sharp right turn and ran off the road. The Tennessee Highway Patrol came and took the report from both police agencies. Drugs and alcohol are believed to be involved.
Mayor Brown read a resolution from the commissioners expressing heart-felt recognition and thanks for Judge W. Bradley Weeks who announced his retirement at the commission meeting last month. Judge Weeks served as Lookout Mountain Municipal judge for 10 years.
Ansley Moses presented a financial report to the commissioners. Over 97% of city property taxes have already been collected for 2009, he said. The city should end the fiscal year in June with a surplus of over $1 million.
After the meeting, a citizen attending the meeting said it would be nice if the state and federal governments could be run as efficiently as this city.
Education Commissioner Bill Mitchell reported Grandparents Day at Lookout Mountain School is March 11. Also, Spring Break is March 16–20.
John Martin addressed the commission about a request for a zoning variation for residential property owned by Robert Williams and family at the end of Bartram Road.
The Williams family, he said, wishes to subdivide their property into three lots. Current zoning requires new lots to have a minimum of 140 feet of road frontage. The property in question sits at the end of a cul-de-sac and does not have the required frontage.
Without subdividing the lot, the Williams' could build one house on the property and not be required to meet the frontage minimum. The ordinance requires any property subdivided after 1995 meet the new frontage requirements.
Bob McDowell, speaking for neighbors bordering the property, said they all object to the granting of a variance. Two of the three lots, he said, would be very difficult to build on and would likely require blasting to prepare them for building. The blasting would be intrusive and possibly cause damage to existing structures, he said.
Mayor Brown told Mr. Martin it is customary that neighbors agree with a proposal before a variance is given. He said he has walked the property and has some concerns about the possibilities for building on it.
Mayor Brown said the commission will not make a ruling until more commissioners have had a chance to walk the property. He said it would be good if all parties got together and tried to come to some agreement.
Chief Bowden said the WWTA has to be satisfied and sign-off on the building plans before he can issue a building permit. Looking at the survey, he said, there are several areas of concern that the WWTA will have to rule on.
In the Mayor's Report, Mayor Brown said the 2010 Fiscal Year Budget is beginning to be a bit of concern. The state is considering cuts, revenues are down, and the Hall Income Tax revenues are going to be significantly reduced because of the economy.
"More than any municipality in the State, Lookout Mountain relies heavily on the Hall Tax," Mayor Brown said. The Tennessee Hall Tax is currently 27% of the city's revenue.
In closing the meeting, Mayor Brown urged everyone to support the mountain businesses. The new grocery store is opening April 1, at the earliest, or around April 15 at the latest. There are three empty buildings in the business district, he said.
The next meeting of the Lookout Mountain City Commission will be Tuesday, April 14, at 5:30 p.m.
Dana Wilbourn
dbwilbourn@yahoo.com
Maze artist contact info:
Yonatan Frimer
Maze Artist
email: yfrimer@yahoo.com
Phone: (646)-335-0761
http://www.inkblotmazes.com/
Those mazes, again...
Blivet Maze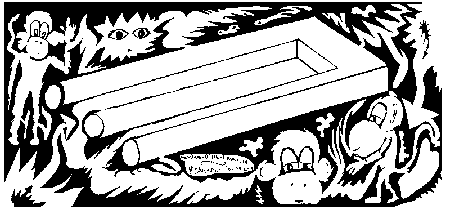 Blivet Maze - 2009, By Yonatan Frimer

Maze Illusion - 2009
Optical illusion maze of another impossible object
Maze illusion - 2008 - By Yonatan Frimer
Maze of the Statue of Liberty - 2009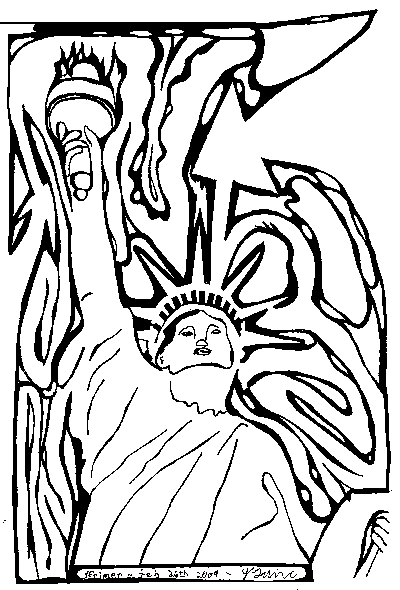 Maze of Liberty - 2009 - Yonatan Frimer




President Barak Obama Maze Portrait - 2009


Maze portrait of Barak Obama - By Yonatan Frimer